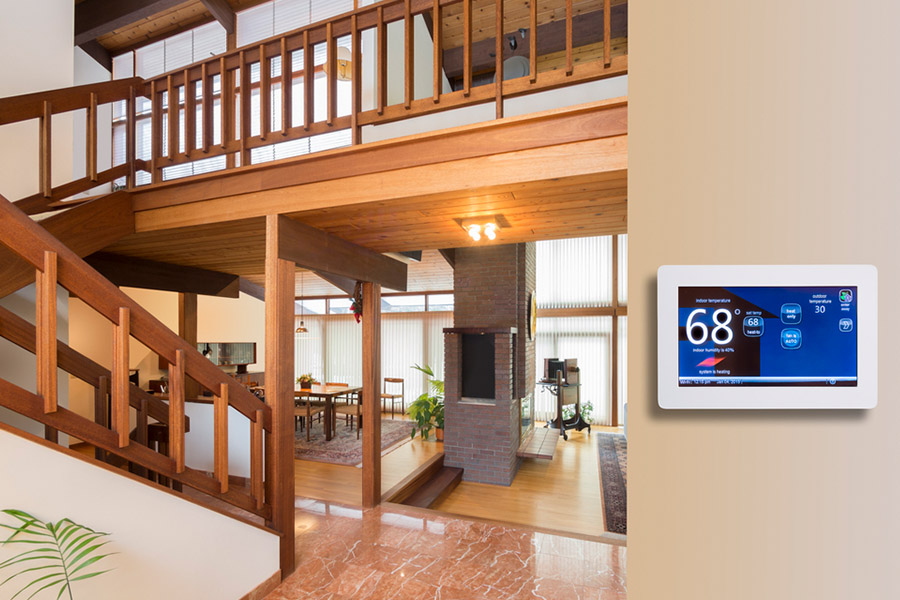 Should You Install A Smart Thermostat In Lincoln?
Modern smart thermostats have evolved well past the point of being just a basic mechanism for adjusting your home's comfort levels. If you think now might be the right time to install a smart thermostat in Lincoln, you will gain much more comfort with far less hassle. Featuring wireless connectivity, multi-room sensors, and the convenience of home automation, these revolutionary instruments will reduce utility bills and make your home truly comfortable and safe.
What Are Smart Thermostats In Lincoln?
After your install a, your new smart thermostat will work in a comparable fashion as your previous model in terms of basic temperature control. The look might be sleeker, but you'll still be able to glimpse the current temperature. You'll still have the chance to raise and lower the temperature right from the component, and a smart thermostat continues to allow you to switch between heat, cool, and fan.
However, if you install a smart thermostat in Lincoln, you will benefit from a wide array of new features. This is due to the fact that the device is wirelessly linked into a larger system, like your Google smart speaker or your home's security system. Through the use of a smart control panel or smartphone app, you are able to program your smart thermostat to change your home's temperature settings automatically at different times of day or to react to different stimuli. The bottom line is a property that is more energy conscious and comfortable.
Why You Should Install A Smart Thermostat in Lincoln
There are a range of incentives for upgrading your standard unit to a smart thermostat:
● Simple management via a mobile app. Take command of the thermostat from a distance with a cell phone app like ADT Control. Is it a little too warm as you're attempting to fall asleep? Just access the app and adjust the A/C without getting up. You might even monitor your property's comfort levels when on holiday with family, and tweak the heat to conserve energy if your house is empty.
● Set a schedule. An innovative smart thermostat gives you the ability to use smart schedules for heating and cooling. Arrange different temperatures to accommodate your family's needs. Bring down the temp when it's time to go to bed, then bring it back up a little bit before you start your day. You might even devise specific scenes for certain situations -- such as a scene for when you're having guests over or one for when the fireplace is being used.
● Lower utility bills with automation. One of the best things about smart thermostats is how they can reduce your heating and cooling bill. You are able to simply modify temperature settings as needed in regards to seasonal fluctuations, weather, or time of day. There's no need to spend excess energy cooling and heating an empty house. In addition, by programming schedules, your clever new tool makes automatic adjustments. Various energy providers are known to extend special savings and rebates under specified circumstances.
● Utilize vocal directives to direct your property. If you decide to install a smart thermostat in Lincoln, you also have the opportunity to configure it to operate with a smart speaker device from Amazon or Google. This gives you the ability to manipulate your home's comfort through simple spoken commands.
● Join your thermostat to additional home automation components. When your smart thermostat is part of an overall home defense package, you're able to link all your devices together. This helps safeguard your house when disaster strikes. For instance, you can program your thermostat to engage the exhaust fan if your fire alarms sense excess heat.
Upgrade Your Home With A Smart Thermostat In Lincoln Today
When your standard thermostat fails to satisfy your energy reduction and comfort demands, it's time to think about switching to a new "smart" model. These devices sleek, easy to use, and will noticeably lower your energy expenses over time. It's also best when you combine it with an advanced home security system. Reach out to us today at (402) 277-9887 or complete the form on this page to inquire about your smart thermostat in Lincoln.